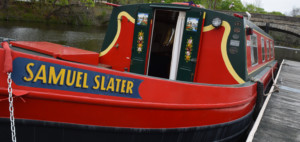 Named in honor of the father of the American Industrial Revolution, Samuel Slater, this 40-foot canal boat is the only one of its kind in nearby American waters. The boat is a reminder of the two decades (from 1828 – 1848), when canal boats were a common sight on the Blackstone River and the nearby Blackstone Canal.
Built in Cambridgeshire, England, this authentic British canal boat can host up to 4 people for a unique overnight experience. Complete with cozy wood features all around you, the Slater has all that you'll need for that special getaway!
The Samuel Slater hosts:
bedroom with full-size bed and closet
kitchen with stove-top, oven, sink, and refrigerator
bathroom with hot shower
complimentary tea and coffee for guests
option to purchase a cruise on the Blackstone River



*Overnight stays are booked via Airbnb.
---
Do something special – charter the Slater for your next event!
The Slater is a perfect option for small group outings of up to 12 people. Whether it's for a private party, nature cruise, or afternoon tea…the canal boat a great place to relax on the scenic Blackstone River.
90 minutes cruises are only $250
Contact the Blackstone Valley Tourism Council via email or call 401-724-2200 to book your charter!
---