Take a river boat tour on the Explorer!
All October 20 tours tour have been cancelled, ending our season of public tours.  Please call 401-724-2200 for refunds.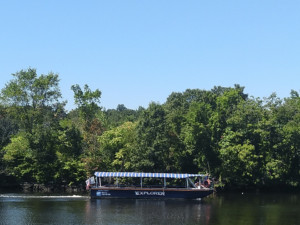 Our 40-passenger tour boat will bring you on an intriguing and relaxing 50-minute river tour in the Blackstone River Valley.
For the last 26 years, hundreds of thousands of passengers have come on our boat tours to learn and discover interesting facts about Rhode Island's Blackstone Valley, and see the quiet beauty many are often surprised to find!
Our well-informed guides can't wait to welcome you aboard to share the history, ecology and beauty of the region! We even provide binoculars and nature guides for you to use during your trip!!!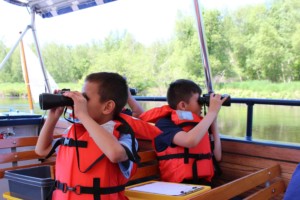 Tours are great for families!
Children love riding on our boat, our fun activity sheets, and discovering & learning together with hands-on biofacts…such as plants and small water animals!
The Explorer is Coast Guard Certified and offers several guided public boat tours as well as SPECIAL EVENTS. Our boat is also great for chartered private parties, sunset cruises, fundraising events and business functions. Learn more about charters HERE
 NATURE & HERITAGE TOURS
Sundays at 1 PM, 2 PM, 3 PM & 4 PM
Stay tuned for 2020 dates.
Adults: ONLY $12
Children (under 12): ONLY $10
Seniors (over 62): ONLY $10
*Online tickets sales are non-refundable and available until the evening before each trip. Day-of ticket sales are available at the dock on a first-come, first-served basis. For questions, our office is open daily from 10-4 and can be reached at 401-724-2200
*Unfortunately, we will no longer be able to accept Feinstein cards on the Explorer. More Info
---
Season Dock Locations:
Stay tuned for 2020 dates and any changes to location info.
Festival Pier, 100 Tim Healey Way, Pawtucket
These 50-minute guided tours provide guests an opportunity to view the Pawtucket/Seekonk River – its beauty, ecology and history – from a new perspective. Guides will explain about Pawtucket's Shipping and Textile industry while learning about the river's ecosystem and how being the birthplace of the American Industrial Revolution made Rhode Island a powerful and profitable region in the United States of America.
First, we travel north for a quick view of Pawtucket Falls and a glimpse of Slater Mill from below the falls. Then we head south toward East Providence and Providence passing by locations of the historic Pawtucket Harbor to Swan Point Cemetery. Along the way enjoy the sights of late spring: large eastern shorebirds like Great Blue Heron, Great Egret, and Black-crowned Night-Heron. We may also observe a variety of raptors like Osprey and Eagles and possibly even observe foraging fish like Menhaden. Binoculars and nature guides are provided during the trips to further enhance the experience.
Al's Waterfront Restaurant, 28 Water St., East Providence
Join us on the Explorer as we tour Providence Harbor at the entrance of the Providence River.   On calm days, we pass through the Fox Point Hurricane Barrier and catch great views of the beautiful and changing Providence skyline.   
As we come about, we travel up the Seekonk River and pass under the Washington Bridge, the historic turnpike that enabled easier access from Providence, RI to New Bedford, MA.  
Upriver toward Pawtucket, we pass by the Crook Point Bascule Bridge,  ("the Stuck-up Bridge") a changing landscape delivers opportunities to see eastern shore birds like Osprey, Great Blue Heron, Great Egret, Double-crested Cormorant, and an occasional American Bald Eagle feeding, flying, and resting.
Cold Spring Park, 101 Katherine Rd., Woonsocket
Come visit Woonsocket and experience a very different view of the foliaged Blackstone River while it flows under half a dozen bridges. Woonsocket grew into an industrial giant during the last third of the American Industrial Era – spinning wool, cotton and producing rubber products. The large structures made of steel, concrete and brick are a testament to coal, steam and water powered machinery that provided thousands of jobs, supported communities and created a bustling and booming industrial city.