Take a ride on the Blackstone Valley Explorer!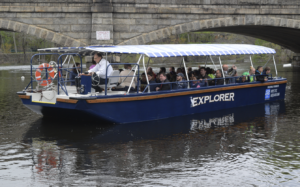 Our 40-passenger tour boat will bring you on an intriguing and relaxing tour through the Blackstone River Valley National Historical Park. For the last 25 years, hundreds of thousands of passengers have come to learn and discover interesting facts about Blackstone Valley, and see the quiet beauty many are often surprised to find!
The Explorer offers several guided public tour options, and is also great for private parties, sunset cruises, fundraising events and business functions. Learn more about charters HERE
---
NATURE & HERITAGE TOURS – Sundays at 1 and 2 PM
On these tours you will hear stories of the workers, residents and early settlers of the Blackstone River Valley and what it took to make our region what it is today. As the 45-minute tours wind along the waters and thick foliaged riverbanks you may get a chance to see the great blue heron, hawks, deer, turtles, or even the returning Bald Eagle, that live along our renewed waterways.
2018 DOCK LOCATIONS
May 20 to June 24: Central Falls Landing, 20 Madeira Ave., Central Falls, RI
July 1 to Aug. 5: Al's Waterfront Restaurant, 28 Water St., East Providence, RI
Aug. 12 to Sept. 9: Festival Pier, 100 Tim Healey Way, Pawtucket, RI
Sept. 16 to Oct. 21: Cold Spring Park, 101 Katherine Rd., Woonsocket, RI
BOOK A TOUR
Adults: $12
Children (under 12): $10
Seniors (over 62): $10
*Online tickets sales are available until the evening before each trip. Day-of ticket sales are available at the dock on a first-come, first-served basis. For questions, our office is open daily from 10-4 and can be reached at 401-724-2200